Sale!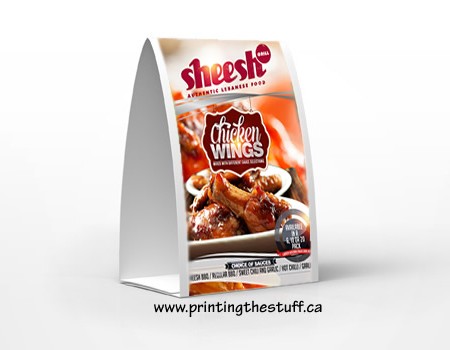 Product Description
Table Tents
For public places with sitting arrangements can use Table Tents as information display tool. Once introducing new promotions or your company table tent card is better than other marketing materials. Table tents work as source of first and great exposure. Once planning to introduce new deals or plans a convenient mode of presentation is very important so that customer can buy your product. Flyers and posters have marketing impact but table tent work better for public places with sitting arrangements.
PrintingThestuff user CMYK and PMS printing techniques to print your table tents using Soya base ink. We offer three major types of table tents
A Frame Table Tent with Lock
A Frame Table Tent Pre Locked
Three Sided Table Tent
Die Cut Table Tent
We use 10PT till 16PT cardstocks for printing your table tents. You can even order thickest cardstock for your table tents. If you are not sure which material or product is suitable for your project. You can contact our 24/7 customer care via email sales@printingthestuff.ca or (647) 846-6929 and even on chat support. PrintingTheStuff ensure you availability of best printing material at cheapest possible pricing.
Template
You may also like…