Sale!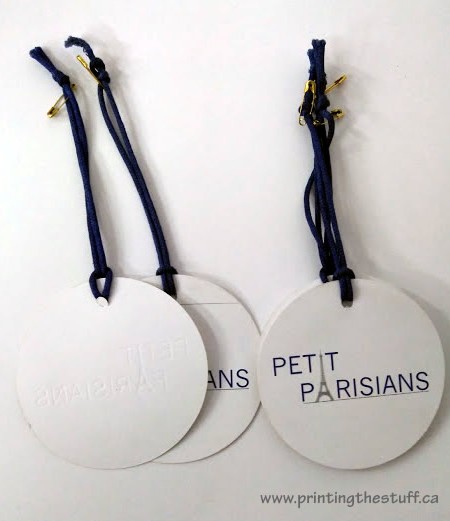 Product Description
Hang Tags
In today's competitive world, establishing a brand online is a huge step for the promotion of products and services — but don't stop there! There lies a plenty of other details which can assist you in creating a long lasting impression on your potential retailers and customers. Hang tags are one of those details, and to create them right is also an unexpected challenge which can't be denied.
Today we are here to discuss some of the huge benefits of having Hang tags and how it has become an industry standard and a good opportunity for your business:
Help Customers To Identify Your Products: Many products and especially for the garments in any retail store becomes tough to discover and thus get lost in the racks. Thus, while having a creative hang tags will help customers to identify your brand and thus, help your brand stand out from those of others.
Share Unique Story Of Your Brand: While placing order for hang tags, if possible then add a little background story regarding the product and how it helps customers if they go for it. Don't be afraid to share why – just go with it as this will give your business a new look from others.
Easy Access Of  Price And Caring Information: Presenting information specially on the hang tags will make your brand more transparent and thus creates a positive aspect in the minds of the customer. In addition, charging a fair price from your customers for designable products will truly give your business a new height.
Planning for a perfect hang tags or swing tags for your products? Then, why don't you opt for "Printing The Stuff". We are one of the most trust-able brand in the online printing industry and over past many years, we are fulfilling all the requirements of our clients at an affordable rate. The sizes which we are offering for hang tags include 2″ x 2″, 2″ X 3.5″ 2.5″ X 2.5″, 2″ x 4″, 3″ x 3″, 3″ x 4″ and custom sizes.
You can contact our 24/7 customer care via email sales@printingthestuff.ca or (647) 846-6929 and even on chat support. PrintingTheStuff ensure you availability of best printing material at cheapest possible pricing. You can calculate our valuable rates on right side of the page using our product rate calculator.
Template